DIGITAL CULTURES LVIV 2019 / LIVING ARCHIVES
Lviv, October 16-20, 2019
Center for Urban History of East Central Europe
Registration for the Conference: http://bit.ly/2oSk11F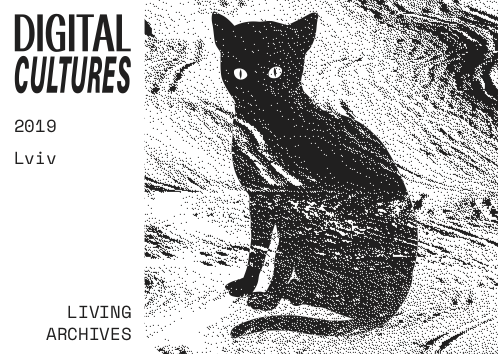 Panelists
Janina Prudenko (kuratorka Otwartego Archiwum Ukraińskiej Sztuki Mediów), Sonia Wronkowska (Biblioteka Narodowa), Ołeksandr Teliuk (Centrum Narodowe Ołeksandra Dowżenki), Kateryna Jakowłenko i Kateryna Łazarewycz (Pinchuk Art Center), Piotr Rydzek (book2net), Marcin Szala (Biblioteka Uniwersytecka we Wrocławiu), Piotr Wrona (Instytut Adama Mickiewicza, Mapa Polskich Kompozytorów), Ewa Korzeniowska (Filmoteka Narodowa – Instytut Audiowizualny), Anton Usanow (badacz połtawskiej sztuki mediów, kurator Centrum Sztuki Jump), Krzysztof Żądło (New Amsterdam), Olha Bałaszowa (Narodowego Muzeum Sztuki Ukrainy), Jakub Wróblewski (Wydział Sztuki Mediów ASP w Warszawie, Pracownia 3D i Zdarzeń Wirtualnych), Marta Malinowska (Different Tales), Łukasz Kozak (Instytut Adama Mickiewicza, Projekt: Upiór), Ołeksij Furman (Aftermath VR), Krzysztof Świrek i Julija Kowałenko (Dzień Kina Domowego), Dawid Marcinkowski i Katarzyna Kifert (The Kissinger Twins), Jakub Szamałek (CDP, deweloper gier Wiedźmin 3: Dziki Gon, Wojna krwi: Wiedźmińskie opowieści, GWINT), Maja Drabczyk (Europeana) i inni.
Conference
17.10.2019
Center for Urban History of East Central Europe
6 Bohomolcia Str.
Temporary Nation performance
16.10.2019, 7 p.m.
Lesya Ukrainka Theatre
36 Gorodotska Street
Piotr Wyrzykowski (PL) and Echo Ho (DE/CN) turn smartphones into sound- and light-emitting instruments, and audience members become participants in their work, moving as a group and using their phones to create provocative, collective performances.
The Key To Time premiere
17.10.2019, 6 p.m.
Lesya Ukrainka Theatre
36 Gorodotska Street
6 p.m. - film viewing on VR googles
7 p.m. - artist talk with Roderick Coover & Krzysztof Wołek
7:45 p.m. - film viewing on VR googles
.
Key to Time is an immersive, operatic film designed for immersive cinematic experiences. It tells a story about time, love and mutation faced with the challenges of scientific hubris, climate change and mass extinction.
FOLDED MAPS OF TIME performance
20.10.2019, 7 p.m.
LEM Station
57 Dmytra Vitovskoho Street
Marek Chołoniewski (PL) & Chris Cutler (UK) present an Avant-garde music performance in which brain activity of the performers, registered live through EEG sensors, is projected as a virtual model of a floating brain in a collage of graphic forms, photos, b&w videos and microscopic scans of selected existing tissues, including that of the human.
Partners
Conference Partners book2net, New Amsterdam, artig.io, Microsoft, Konsulat Generalny RP we Lwowie, URBAN Biblioteka, Lwowska Rada Miejska, Lem Station, Lwowski Teatr im. Łesia Kurbasa, Lwowski Teatr Dramatyczny im. Łesi Ukrainki, Центр Митрополита Андрея Шептицького
Media Partners:
UA: Ukrainske Radio Lviv
Ukrainskiy Tyzhden
Korydor
Ukraina moderna
Krytyka